. . . You drool over a refrigerator.
Right now we have a very boring, slightly dated, incredibly basic apartment model. While I can't see over the top, I am a little taller than it--which also illustrates the fact that it isn't very large. It doesn't cool very evenly, on the top shelf things can get icy and the bottom shelf often doesn't keep a can of pop cold enough. (In my humble opinion, but I do like my pop extremely chilled.)
A fridge was the first major purchase Peter and I made after we got married. At the time we owned a small house in Indiana. It sounds very silly, but I loved that fridge! I liked the versitility of the side by side. I loved having ice and water in the door. I also loved how bright and fresh it was. Here's the best picture that I could find:
I do miss that fridge AND the kitchen. Peter put a lot of work into the kitchen and it really did pay off! (I should find the "before" pictures someday, the best way to describe it would be that whoever painted it was high.)
So, what type of fridge am I drooling over today?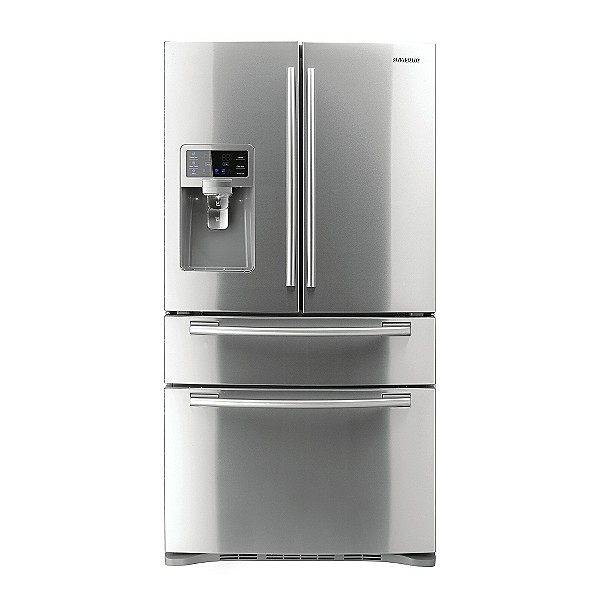 This model
! I love the snazzy stainless steel. I have heard that it can be a pain to keep clean--but it just looks so cool! I really am a fan of the French-door style. I love the drawer freezer. The upper drawer can be used for whatever you need it for: cool, cold, or frozen. The refrigerator section has so many storage options:
Sadly, with a price tag of almost three grand, I doubt that it will be in our price range anytime soon--if ever! But, hey, a girl can dream!
(And when the time comes, I will check all of the clearance sections, scratch and dent models, floor models, etc of every home improvement store in the area. In addition I will scour Craigslist and try to use all methods available to me to maybe, just maybe, score a deal!)