I've been itching to try something using
crochet thread
for a while now. After getting my hands on some thread I decided to make a scarf.
It took a little while for my fingers to adjust to the difference--both to the size and weight of the thread and of the hook. Once I got the hang of it I made progress--slow progress. Like I said
before
, it felt like it took forever! I used my (current) favorite
stitch pattern
--the same one I used when making my
Shades of Green Belt
. This pattern really looks different on these projects, doesn't it!? I just kept going until my ball of thread ran out.
I think it turned out pretty well. This
Lacy Crochet Thread Scarf
has a sort of Victorian elegance to it. It is so light an airy it could be worn anytime--the dead of winter with a sweater or the hottest day of summer with a sundress and pretty much everything in between. The off-white color can compliment a huge assortment of colors. It could be worn to a dressy event or everyday with jeans and a top. (All this is my humble opinion, of course!)
I see more crochet thread projects in my future!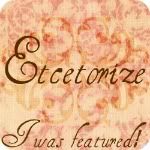 Check out these awesome places I like to party!
I also added this to Hookin on Hump Day.